Prague informations, hotel, holidays by Vortal City Network
Here you will find advice on the things you should not miss in Prague if you want to make sure you get the most out of your visit and discover the most fascinating face of Prague!
Green Prague
The seven hills near the Moldavian River where Prague is located are the green lungs that offer fascinating places for relaxing promenades to both residents and visitors. The most beautiful park is the one located at the top of the Petrin Hill, in the Mala Strana Area. To the list of beautiful green areas we would like to add the Belvedere that can be reached with a rack railway and from which a beautiful view of the entire city can be appreciated. For those who would like to stay in the historic city centre they could have a sneak pick of the hills by getting one of the many beautiful postcards of landscapes of the region.

Kampa Island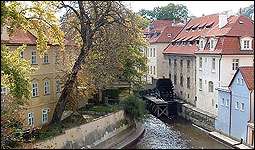 A small land strip surrounded by the waters of the "Stream of the Devil" and the Moldavian River, Kampa belongs undoubtedly to the favourite places for the Prague youth, that frequently meets at the beautiful lawns of this island. For those who would like to spend the night in the island, we recommend to go to one of the many restaurants where delicious fish specialties are served, or to go to the crowded bars to enjoy a glass of authentic Czech beer.
Music in Prague
Among the art expressions that characterize Prague, music is undoubtedly the one that best describes the city. The music festival "Praguean Spring" honours the composers that were born in Prague and those who lived and composed in the Czech capital. From the 12 th of May and for three weeks the city breathes music and fills music halls and theatres where world-class concerts are offered.
Famous People
Probably the most famous Praguean and a real master of universal literature: Franz Kafka was born in Prague and lived for a while in the Golden Alley -impressive road that leads to the castle. Among the adoptive sons of Prague we find Wolfgang Amadeus Mozart to be the most prominent. The composer finished his opera Don Giovanni in the city and elated the Pragueans with his concerts. The city honours both artists with expositions devoted to them: In Kafka's Birth house for the writer and in the Villa Bertamka for Mozart.